"Reflections on 9/11: from Edinbugh, Scotland" was written by Wanderlust Tours founder, Shawnie Kelley as she planned to return to the States on 9-11
Balmoral Hotel, Edinburgh
This photo was taken on September 11, 2001 in Edinburgh, Scotland where I was living and was supposed to fly back to the States that same day. But needless to say, that didn't happen. I watched as the flags were rearranged on the Balmoral Hotel.
After watching a few documentaries this week about 9-11, it got me thinking (How can any footage not be thought-provoking?)– I haven't reflected on it much in recent years & that it happened a decade ago is mind-blowing. In retrospect, I can say it was 9-11 that prompted my decision to (eventually) move back across the pond. I had been living between Scotland and France in 2001, and was in fact, due to fly home from Edinburgh that very afternoon.
September 11, 2001 was as equally gorgeous in Edinburgh as it seemed to be in NYC. A perfect sunny morning. Business as usual. My former flatmate, Stella, helped me put a few things in a storage unit and dropped me off at St. James Mall in downtown Edinburgh to pick up a few last things before catching my flight home.  Much of what was unfolding is recognizable- even on the streets of Edinburgh- in hindsight. It was around 2PM (the UK is 5 hours ahead) and, as we drove toward the Royal Mile, we noticed clusters of people standing on the streets; primarily around the government buildings. Camera crews were outside Parliament and all along the Royal Mile. We even joked about the unusual flurry of activity… chalked it up to the Queen being in town. (I even snapped a picture and will upload it soon.)
After being dropped off at St. James Mall, I noticed a hoard of people clustered around a few TVs pushed up against an electronics store window… "meh! Football." is exactly what I muttered while scurrying off to pick up an over-sized piece of luggage. Another oddity… the mall was silent.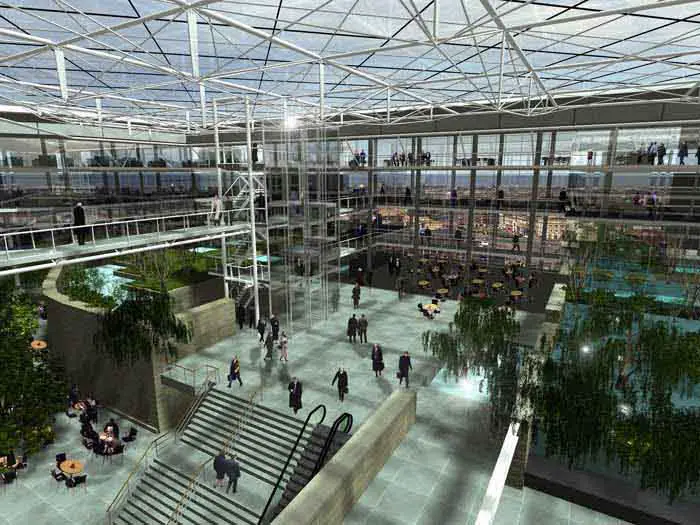 This is an image from the mall's website.
I never shopped so fast in my life. 15 minutes to buy the suitcase, trousers, jacket, and shoes I had been eyeing up for a month. It all came clear while rolling along with luggage in tow back past the electronic store. I had 2 hours to get to the airport. Loads of time to stop and see what everyone is gawking at on the tele. Little did I know we were watching the world change. It took a while to figure out why NYC was billowing smoke. There was no TV back at our flat, so I was thankful the electronics store pushed a bunch of TVs up to the window and turned the mute/closed caption on. So I along with about 20 others watched breathlessly as a surreal event unfolded in real time. Dead silence. Nothing seemed scary yet. Just confusing and sad of course, a plane crashed into the WTC.  I had a plane of my own to catch, but couldn't tear myself away from the TV.  We watched as the second plane hit the towers and that's when it came clear I wasn't flying home that day. Something in my gut said it was bad. Really bad. Then the towers collapsed. Sickening to see. A sweet, older gentleman (of whom I have not thought about in 5 or 6 years), named Rori, watched my stuff as I stepped outside to use my cell phone, which was sans signal inside. I can't remember exactly how many messages I had, but it was 35 or 45 messages from 3o different people. Family. Friends. Colleagues. Everyone knew I was flying. Where to? Where through? Where are you? That was the confusion and uncertainty of the time. One of those messages happened to be a flight cancellation. The airspace over London had been shut down indefinitely (=3 days). Edinburgh, too, put a lock down on the government buildings and the airport. Not. Going. Anywhere.
Arthur's Seat from Edinburgh Castle
I had been staying with Stella, who was presently holed up in the basement of a library (also sans phone signal) nor did she own a TV, so I parked myself (and all my baggage) for the next 3 hours at the Balmoral Hotel bar where every TV carried some news coverage of the story. It still seemed unreal. Frankly, I felt very disconnected from my home, family, America in general. But later that evening, an extraordinary group of international people whom I knew from the University of Edinburgh, gathered at a friend's house- he had a giant TV- to listen to Bush deliver a speech that sent shivers of national pride (and sadness) up my spine. After watching the entire tragedy unfold on a TV in a mall, with strangers, I wondered how my perspective of 9-11 was shaped by not being here with my family and friends. But looking back, I wouldn't change a thing.  Opinions of an historic, world-changing event was shared with friends from all over the world… there were no less than a dozen countries represented in this one room. It was both enlightening and poignant to learn of different perspectives. All were horrified and saddened, but not all were necessarily shocked beyond belief.  A few were angry and ended up in verbal fights. Very heightened moods…  We all decided to sleep it off.
The craggy castle cliff
It took several days to sort out my flight because I bought a cheap ticket through the Student Travel Association (STA) and, let's face it. I wasn't exactly their priority customer to get on the next flight home. In fact, I didn't come home for two more weeks. For as many people as I knew (and spent time with) over the next few days, I felt disconnected and introspective and wanted to be alone. At this stage in life, I was researching Scottish castles and it was instinctual to go to a castle when I wanted time to myself. Edinburgh Castle is seemingly impenetrable, unmovable, safe…. like the Twin Towers.  I wandered around the castle imagining what it was like being inside, while attackers were trying their darndest to scale the impossible crags. I kept comparing this castle to the WTC and then something struck me. A comment about how a formidable fortress such as Edinburgh Castle was taken by stealth and not by storm. I guess having two planes crash into iconic NYC buildings is more or less a 'storming' of America, but still, it was pretty darn stealth.  I had to go somewhere else. Strangely, the castle didn't make me feel very safe. I wondered if this was the general mood everywhere. Uncertainty.
Inverness
And so, I went to the Highlands for a while… Inverness, Drumnadrochit, Nairn, Ullapool… amazing outpouring of sympathy (and whisky) by the locals.